Home
/
Item no. 6 (stamp)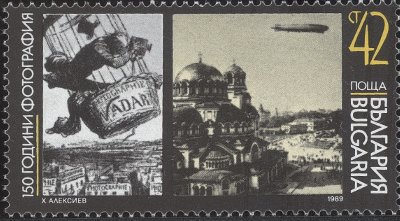 Item no. 6 (stamp)

Type: stamp

Country: Bulgaria

Date of issue: August 1989

Catalog number: Michel 3774, Scott 3431

Stamp issued to honor 150th Anniversary of Photography. It shows (I) a drawing of 1862 by French caricaturist, painter and draughtsman Honoré Daumier [1820 – 1919] of Nadar [1820 – 1910] taking aerial photographs from a balloon [1858], and (II) an airship LZ 127 "Graf Zeppelin" over Alexander Newskij Cathedral in Sophia. The Daumier's caption to the drawing of Nadar was as follows: "Nadar elevating photography to the height of art".
Single stamp.

Created on

Tags

Albums

Visits

1695