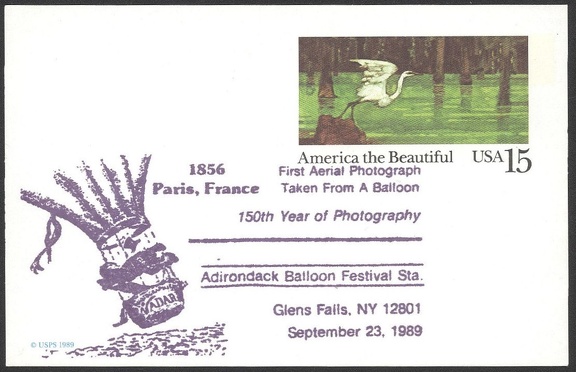 Item no. C182 (cancel)

Type: cancel

Country: USA

Date of use: 23 September 1989

Special cancel (CTO) commemorating the 150th Anniversary of Photography and the FIRST AERIAL PHOTOGRAPH TAKEN FROM A BALLOON (this was achieved by French photographer Nadar [1820 – 1910] in 1858, not in 1856). The cancel's illustration shows a lithograph of 1862 by French caricaturist, painter and draughtsman Honoré Daumier [1820 – 1919] of Nadar taking aerial photographs from a balloon. The caption to the drawing of Nadar was as follows: "Nadar elevating photography to the height of art".