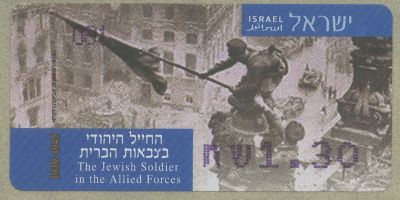 Item no. S166 (stamp)

Type: stamp

Country: Israel

Date of issue: 9 May 2005

Catalog number: Michel [Automatenmarke] n° 49

A vending machine (self-adhesive) stamp. It was issued on the 60th anniversary of the end of WW II and it honors Jewish soldiers in the Allied Forces. The stamp shows reproduction of YEVGENI KHALDEI's (1917 – 1997) photograph of Soviet Red Army soldiers mounting national flag at the roof of Reichstag building (Third Reich parliament). The photograph was taken just after the fall of Berlin in May 1945.