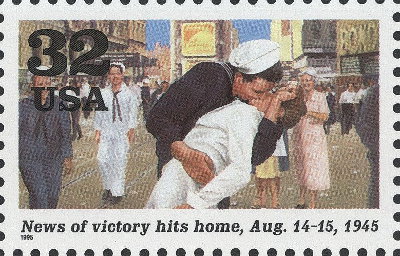 Item no. S108 (stamp)

Type: stamp

Country: USA

Date of issue: 2 September 1995

Catalog number: Scott 2981i (of 2981a-j)

Stamp "News of victory hits home, August 14 – 15 1945" issued to honor US victories at the Pacific during WW II. The design is based on a photograph (called V-J Day or V-J Kiss) by German-born American photographer and photojournalist ALFRED EISENSTAEDT (1898 - 1995) taken on 14 August 1945 at New York's Times Square.
The stamp is a part of 10-stamp pane "WORLD WAR II".