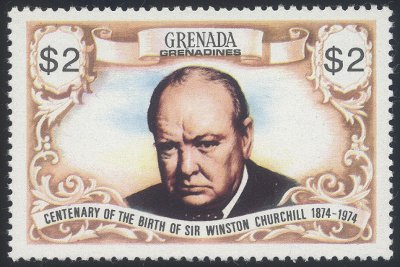 Item no. S141 (stamp)

Type: stamp

Country: Grenada-Grenadines

Date of issue: 8 October 1974

Catalog number: Scott 28

Stamp of a set of two* different stamps issued to commemorate the centenary of birth of Sir Winston Spencer Churchill (1874 – 1965), British Prime Minister. The stamp´s design is based on the photograph taken in 1941 by Canadian photographer Yousuf Karsh (1908 – 2002).

*) The stamps were issued also in form of a 2-stamp souvenir sheet, with changed colors and different values.
Created on

Albums

Visits

2213