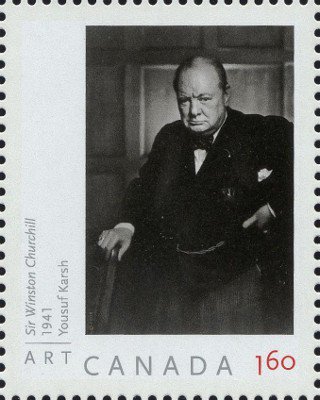 Item no. S139 (stamp)

Type: stamp

Country: Canada

Date of issue: 21 May 2008

Catalog number: Michel 2471 (of 2469 – 2471)

Stamp of a 3-stamp set honoring Canadian portrait photographer YOUSUF KARSH (1908 – 2002) and commemorating Y. Karsh´s 100th anniversary of birth.
The stamp shows reproduction of one of his famous photographic portraits, a portrait of British Prime Minister SIR WINSTON CHURCHILL (1874 – 1965). The stamp´s design is based on the photograph taken by Yousuf Karsh in 1941.