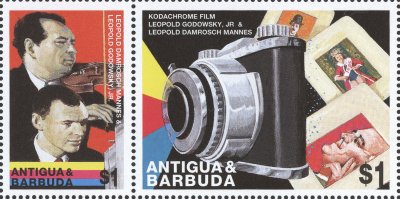 Item no. S217 (stamp)

Type: stamp

Country: Antigua & Barbuda

Date of issue: 10 November 1998

Catalog number: Scott 2181f (of 2181a – 2181h)

2 linked stamps of a 8-stamp set INVENTORS. Both of them honor two Jewish musicians and amateur chemists – Leopold Godowsky, Jr. and Leopold Damrosch Mannes, who in 1935 invented the first practical color film for transparencies, Kodachrome.
The stamps show (I) graphic representation of portraits of the inventors, based on real photograph (+ their names); and (II) graphic image of a camera and framed slides (+ names of the inventors).
The portrait of the inventors is a graphic representation of a photograph (transparency) taken in 1938 by Dr. Walter Clark (1899 - 1991), English scientist, one of pioneers of invisible radiation (infrared) photography.

Created on

Albums

Visits

10788