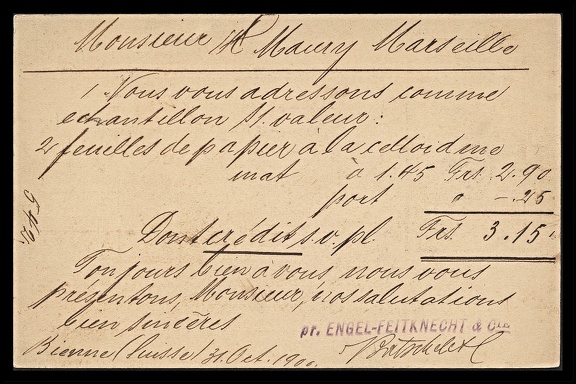 Item no. P1910b (postcard)

Type: cover

Country: Switzerland

Date of use: 1 November 1900

Postal card (back of) adopted for business correspondence by the company ENGEL-FEITKNECHT & Cie. in Biel (Bienne, Switzerland). The company was founded in 1878 by Alfred Engel-Feitknecht (1850 – 1899) in Twann (Switzerland) as a manufacturer of photographic dry plates. The business soon expanded into import/export of photographic materials and equipment, and even also in manufacturing cameras of own design. A. Engel-Feitknecht was also author of several patent solutions that improved the construction and operation of cameras. His photographic activity brought him several awards at exhibitions. The company was moved to Biel after his death.

Created on

Tags

Albums

Visits

417